If you're anything like me, you spend a lot of time on other people's computers.  You get your own machine set up, customised with the right applications for the right jobs, everything where you want it.  Then you get onto your colleague's machine to fix something and find you're missing one of those useful little tools that lets you get the job done.  That's where PortableApps comes in.
PortableApps runs on Windows from your pen drive, puts a little launcher down in the notification area from which you get this menu: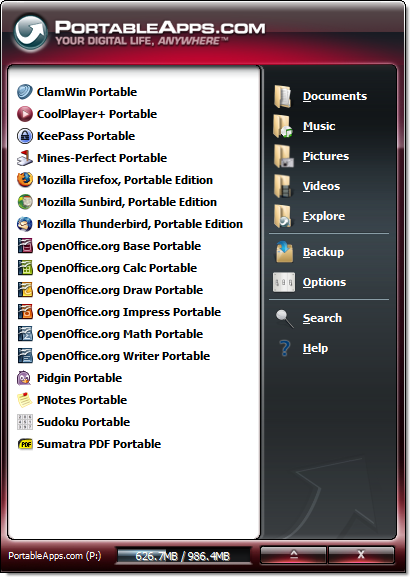 Because it runs from your pen drive it means you don't have to worry about having the rights to install programs to your computer.  This works just as well for limited users as it does for full-powered SysAdmins.  So, should you be of a mind to, you could get around your company's pesky insistence that you run Internet Explorer 6 for all your web browsing needs by installing the portable version of Chrome, Firefox or Opera and customise it to your heart's content with all those lovely extensions you can't get in IE.  Your SysAdmins probably won't be pleased, but hey, you're being forced to run IE6.
If you browse the list of apps here http://portableapps.com/apps you'll find a wide range of applications ranging from accessibility programs, through development tools and games to full office suites.  Yep, OpenOffice runs as a portable application (and it's almost as fast as if it were installed locally).  You can run a complete web server using XAMPP, design and develop your HTLM applications with Notepad++ and upload everything to a remote server with FileZilla.  If you're bored, go to the Games section and take your pick! Freeciv is a good way to while away a few hours, DOSBox lets you play all those old games, or if you're more of a Guitar Hero fan, there's Frets on Fire.  Graphics editors, browsers, chat clients, you'd be hard-pressed to find something that didn't fill the niche you're looking for.  Sure, Microsoft Office isn't on there, but there's a slew of other office applications that would get the job done.  If you can't find the app you're looking for, the forums are the place to go.
I work in IT support for an educational establishment, and JISC (Joint Information Systems Committee) have produced an excellent academic-themed suite that we access through their Regional Support Centre for Scotland North & East.  This suite contains a number of applications that are targeted at students and teachers including a range of accessibility applications (arranged into Reading & Writing Support, Visual Support and Keyboard/Mouse Alternatives), tools for authoring learning objects for Virtual Learning Environments (VLE), and even the Moodle VLE itself.  JISC produces 3 versions of their suite, AccessApps, LearnApps and TeachApps, each available in Full or Core flavours.  A comparison between the versions can be found here: http://www.rsc-ne-scotland.ac.uk/eduapps/compare.php
Apps running from the pen drive do run slower than their installed counterparts but it's a small price to pay for the peace of mind, knowing you've got the tools you need to get the job done no matter which Windows box you end up on.