Tricky one, this week.  In fact it's proving more and more tricky to come up with a new application each week!  Fortunately, my half-marathon training has come to the rescue in the form of JogTracker.

JogTracker comes in two flavours – free and Pro (which requires free to be there, so you might as well go for free first and see).  Pro unlocks a few features that are really rather fun.The long and short of JogTracker is that it's an unobtrusive little app that harnesses your phone's GPS system and Google Maps to keep a track of how far and how fast you run.  During the run you've got the option to see a live map view of where you are and where you've been along with a live view of your current speed.  At the end you get to see your averages (I'm still running 9.2 minute miles, need to shave that down a bit) and the finished map so you can marvel at what you've just done.
Features onlocked by "Going Pro" include charts that show you your speed over the course of the run and the altitude chart of the run you've just done.  And if you install the voice add-on, you can get alerts every few minutes for your distance covered, speed, time run, and so on.
When you first launch the app you enter in a few personal details – age, weight, height, that sort of thing, so that your calories can be calculated and you can see how many (or few) KitKats you've earned when you finish your run.
Incidentally, I'm saying "Run" the whole time here but it also keeps a track of cycling, rowing, walking, skating/inlining, hiking, wheelchair use and driving.  And "Other" just in case your activity isn't on that list.So this is all very well.  It records your activity, saves it on your phone and then what?  Then you need an account (free) over at www.jogtracker.com to upload your data to.  And, as they say, this is where the story really starts.
I was listening to an item on Radio 4 recently about self-hacking.  The art of taking all that data generated by assorted smartphone apps and other dedicated pieces of equipment and finding out all about the  trends and habits you never really knew you had.  At a glance, you can see your activity for the last week, the last month, the whole of the year, everything you've uploaded to the site.  And you get medals!  For completing a number of days in a row, you get the Streaker medal (you!  You at the back!  Stop sniggering.)  For completing a number of minutes/hours you get the Time Investor medal, and so on.  Each medal comes in three grades – Bronze, Silver and Gold.  Medals are there for your own encouragement.  On the page for each activity you've uploaded you can enter more details – weather conditions, what music you were listening to, whether it was a good or a bad run, that sort of thing, along with viewing the map of your activity.
This one, for instance, is a fairly typical jog of mine.
You don't get to see the altitude profile on the website, but trust me.  This one starts and finishes with a long hill.
A screenshot of the app in action.  Note the arrows at the top of the Map section, these let you flip between the map and the statistics pages (and charts if you've gone Pro)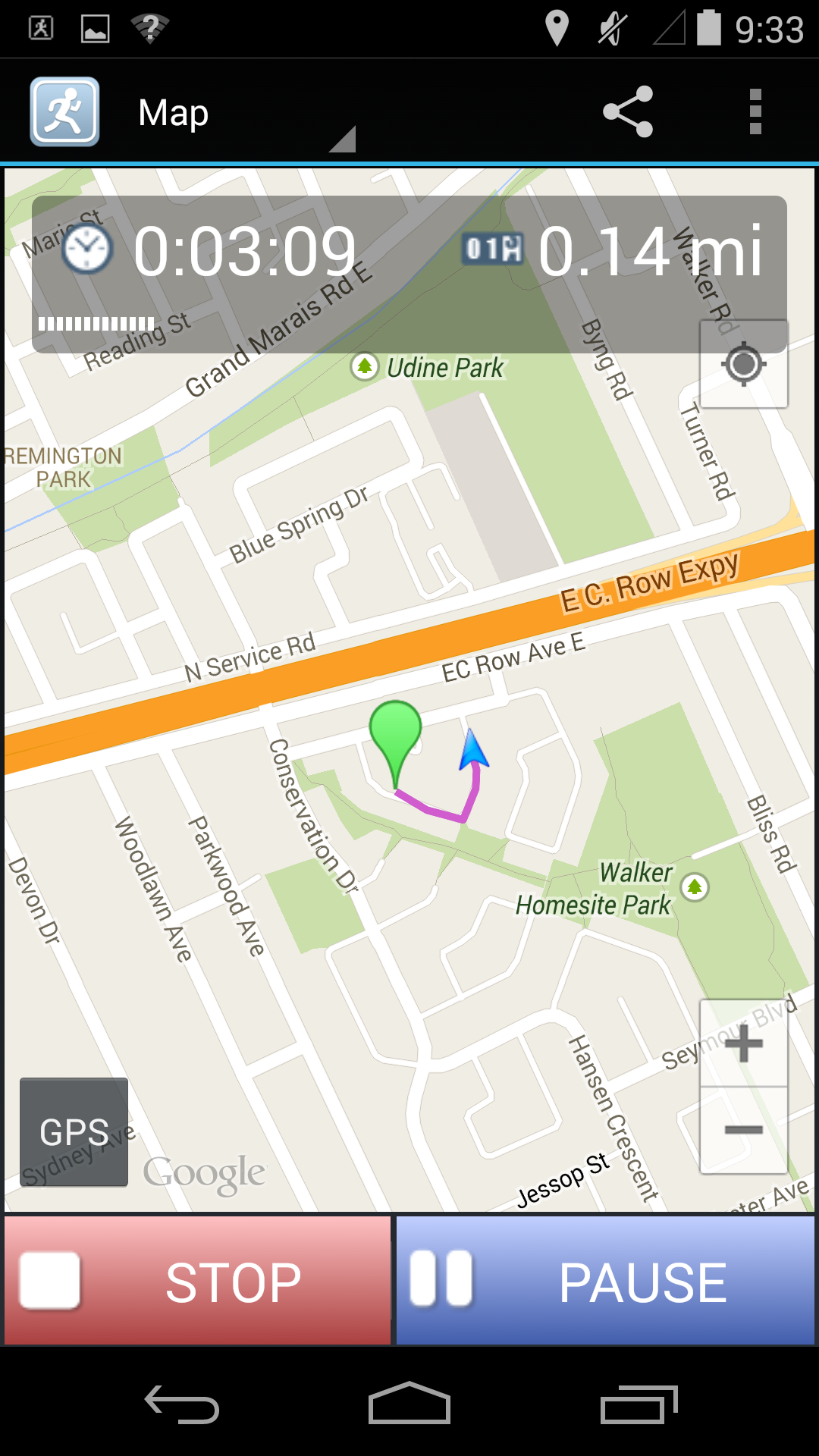 To purchase the app, either search for JogTracker in your Android marketplace or use the QR code below (for the free version).

Happy Jogging!